The Blanco River Water Park is located at the lower end of Water Park Road and is for the exclusive use of members of the River Mountain Ranch Property Owner's Association (RMRPOA) and their guests. The RMRPOA Blanco River Park has seen some improvements since the beginning of 2008 as seen in the pictures posted in this section. The gated entrance to the Water Park was also upgraded in 2008 with flower beds (below right) and the park road was repaired as well as the first 150 feet of the road being paved (below left). The park road pavement was extended an additional 300 feet in 2010.
The park can only be accessed through a locked vehicle gate. Park keys are only available to RMRPOA members. New residents/property owners or those that have lost keys, should contact the RMRPOA Board Member responsible for "Parks" to obtain keys (see Board page for contact information).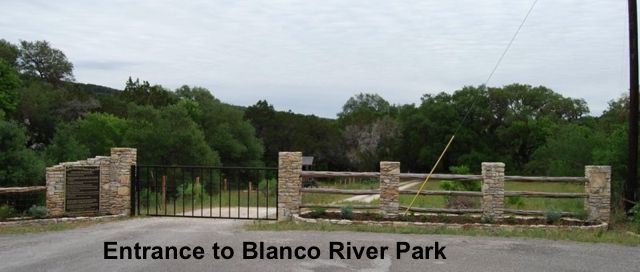 The park contains a large area for family picnics under the cover of rustic cedar pavilions. There are also areas to safely cook in our stone barbecue pits (below).
Just a reminder…..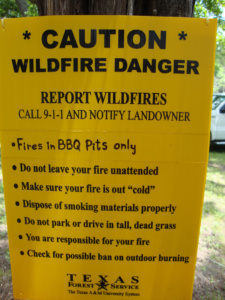 Please remember that OPEN FIRES of any kind are banned in the RMR Blanco River Water Park.  If you are planning a picnic and plan to use the barbecue pits, please be extremely careful and ensure that the fire is out prior to leaving the park.
Remember, use of the Blanco River Water Park is for POA Members and their guests only and at your own risk.  There are no lifeguards.  Should an emergency occur, you will need to move to a higher point on Water Park Road since cell phone coverage is very limited or not at all in the park.
Also, please be extremely careful if cooking on a barbecue at your home.  Do not set up the barbecue in an area where a wildfire may start (e.g. tall grass, etc); Do not leave the barbecue unattended; Have a hose available and ensure that the fire is out when you are done cooking.
After the picnic you can stroll down the stairway to the Blanco River and enjoy a refreshing dip in the water. Swimming is, however, at your own risk. The rock stairway was extended all of the way down to the river in 2008 (see below).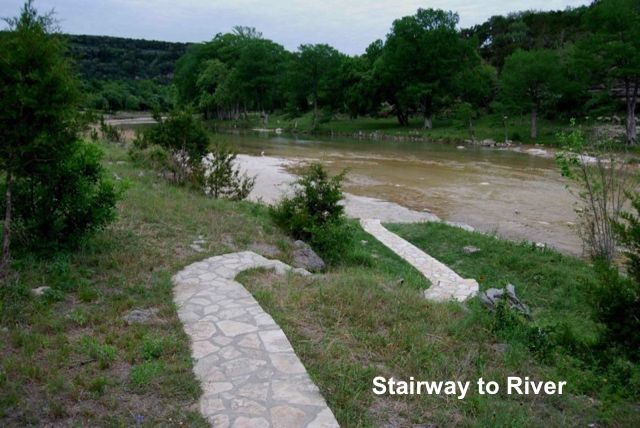 The "Park Rules" are also posted to the left of the River Park entry gate.
Water Park Restoration Work
After the devastating 2015 Memorial Day flooding, many hours of work have been done by the the Park Committee and neighborhood volunteers to begin the process of habitat restoration in our native water park.  With the aid of the Hays County Master Naturalist, we have been working on clean up, repair, removal of invasive plants species and grass burs that were brought in by the flood, and the planting of a few small native plants and cypress saplings. Our plan is to continue to work with nature to help restore the riparian area so that our residents can have access to a beautify, thriving, native park on the Blanco River.  Numerous residents have voiced an interest in making donations to sponsor the planting of trees in the water park to replace those that were lost. The purchase, planting, caging and care of a 6 foot tree it about $250 each and medium size shrub about $100.  Anyone wishing to make a donation of any size to help with this project can do so by sending a check to RMRPOA at P. O. Box 182, Wimberley, TX 78767.  Please state on the check that it is a tree planting donation.
We are also in need of a small shed to store hoses, buckets and a some hand tools.  If anyone has a small shed that is no longer being used, we would greatly appreciate the donation of it.  It will save us having to purchase a new one.
Rachael Ranft, Director of Northern Hill Country Projects with The Nature Conservancy says, prevention can begin by treating properties along the river as natural areas rather than well-manicured yards.
"So you have mowed lawns all the way down to the riverbank," she said. "You have big trees but no saplings, no understory structure. And those are the things that really hold the river bank in times of a flood and in times of drought to hold the water in."
"What we're really afraid of right now on the Blanco is that we lost so much vegetation in that disastrous flood over Memorial Weekend 2015 that even a regular flood that we get every two to three years is going to rip soil from our banks and cause people to lose massive amounts of land because there' s nothing holding those river banks right now.